As many of our friends and neighbors have heard, in early November Herbert S. Tilden died at the age of 92 at his home on the farm, surrounded by his family.   We look forward to honoring his memory this season. In addition to his lifelong work as a farmer, with his  wife of 50 years, Mable Flathmann Tilden, at his side, he raised five sons- the late Jeffrey (Ann), Bruce (Jeanne), Lee (Diane), Donald (Cyndy), and John (Christine). He was the  proud grandfather of Abigail, Rebecca (Mike), Andrew, Emily (Jon), Daniel,and David, and great-grandfather of Logan.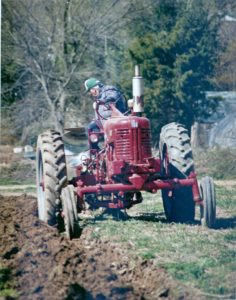 Following in his own father's footsteps, Herb was a 68 year member of the Greenlawn Volunteer Fire Department.  He also served four terms as a Commissioner of the Greenlawn Fire District.  Herb was instrumental in the founding of the ambulance service of the GFD Rescue Squad in 1961.  He is shown below (far left) with fellow Squad members receiving an award in 1964 for a rescue where a car accident victim with a broken neck was safely extricated and transported without further injury or paralysis.
His sons Bruce and Lee, and Lee's wife Diane, are proud to carry on the family tradition of GFD service for the third generation.
Like dandelion seeds in the wind, our memories of a life well lived will always surround us.